By April Drew
It's probably not the first destination one would think of when planning a family sun holiday but we are here to tell you that Dubai is AMAZING for families. They have entertainment on tap and there won't be a day you or the kids get bored. It's the ideal holiday to marry relaxation and fun together.
TEMPERATURES IN DUBAI
Although temperatures can be very hot in the summer time other months provide less intense heat. Ideally Jan-March are lush temperatures.. Average would be about 26deg. April and May go from middle to late 30's and then July-Sept are in the 40's. It cools down slightly Oct-Nov but still mid-thirties. December drops to mid-twenties.
RELIGIOUS HOLIDAYS
Ramadan lasts a whole month (dates vary) so please take into account that certain things could be closed. For example Ramadan for 2022 starts on April 1st and ends on April 30th. Sometimes the city can be quieter as a lot of the locals head off to cooler shores. Once you respect their religious holiday during this period there should be no reason you can't have a great holiday. Just make sure all of the activities you want to do that they will be open.
THINGS TO DO WITH KIDS
We asked those of you who have been to Dubai before with the kids to give us your favourite activities to do with the kids or places to visit.
Legoland Dubai
If you've taken the smallies to Legoland UK you'll know how much fun it is. Legoland Dubai, located in Dubai Parks and Resorts, is equally so. It's a great way to spend a day in Dubai and they are currently in the process of building a Legoland Hotel on site which promises to be wonderful. They have a theme park AND a waterpark inside Legoland Dubai which suits the beautiful climate. You can even rent a Cabana in the waterpark to chill out for the day.
Age: Kids' from 2-12 years will enjoy this day out.
Price– €50 per person (kids under 3 free) – 220 AED
Dubai Aquarium and Underwater Zoo
This isn't just any old aquarium, the Dubai Aquarium is a monster. Over 10million litres of water with thousands of aquatic animals, this is a must visit. Divided into different environments like Night Creatures, Rainforest and Touch Pools, your kids will thoroughly enjoy a day out here.
You can even learn how to scuba dive during your visit (extra cost).
Age: All ages will enjoy this.
Price: There are many different experiences to choose from but their website will give you an idea of each cost below.
Kidzania Dubai
If you've ever been lucky enough to visit Kidzania in London you'll know how much fun this place is. You can see highlights of our trip to Kidzania in London over on our Instagram page (under London 2019). It's a wonderful indoor activity to keep the kids entertained for hours on end. Allow approximately five hours if you can for this visit.
Kidzania is a FULLY interactive city for kids, run by kids. They are the bosses. The concept is genius. There are over 70 real life experiences for your little ones to explore, the only difficult part is deciding what you can and can't visit. There is even an nursery for your kids under 2.
Age: Kids between 4 and 16 will love this
Price:

Economy ticket 4-16 is €40 – 179 AED
Premium ticket 4-16 is €54 – 239 AED
Adult ticket is €15.50- 69 AED
Kids 2-3 is €20- 89 AED
Under 2 is free
Premium tickets include ALL attractions visits but Economy tickets have limited visits.
Atlantis Dubai
If you can't afford to stay here for the duration of your holiday (few can) you can still visit on a day pass. Atlantis Adventures Waterpark is the No.1 water park in Dubai, right beside the Atlantis hotel. The theme park has many waterslides, children's play areas, a private beach and super marine activities.
Kids need to be taller than 1.2m for a lot of the bigger slides, but your little people will enjoy the children's play zones, a maze, tubes, smaller slides and climbing frames.
Wild Wadi Waterpark
Another famous waterpark in Dubai is Wild Wadi situated at the Jumeirah. It's a themed waterpark with a folklore character called Juha at the centre of it. It's got something for all ages from heart racing rides to age appropriate slides for everyone to enjoy. If it's relaxation you are after, there is a huge lazy river, cabanas and you can even try surfing if it's your thing.
Age: All ages will have fun here.
Price: Over 1.1m – €45 199AED

Under 1.1m- €34 149AED
Under 2 years are free
Ski Dubai
Yes, you are going to the desert but anything is possible in Dubai, right! Fancy a day away from sunbathing then try your hand at skiing.
Ski Dubai actually has REAL snow. The temperature is normally kept at -1º to -2º Celsius.
And when you are done skiing you can come face to face with real penguins. Your kids would love this. There is plenty to do inside Ski Dubai. Well worth setting a day aside from this unique Dubai activity.
Age: 3 and up (kids under 2 are not allowed)
Price: Prices vary to ski, please visit website but they start at €57- 250 AED per person and go up to €101 – 450AED
Burj Khalifa
If you want a break from all the action packed days out, then take the family to visit the Burj Khalifa. It is the tallest building in the whole world, which should definitely impress your older kids. It's a great way to see the lights of Dubai and experience a height you'll probably never reach on land again.
Ages: All ages can visit, although it might bore the very young kids slightly.
Prices: Adults (12 and over) €26- 114 AED

Children (4-12) from €16- 72 AED
Under 4 free
Desert Safari
This one is most certainly for the older kids. You can visit the desert via a hot air balloon, ride a camel or do it fast paced on a four wheel drive. It can be a hot excursion but also a wonderful way to visit the desert safely. There are several desert safari operators that you can check them out online before booking. Just make sure the reviews are good.
Age We wouldn't recommend this for kids under 5 although they will take kids 3 and up.
Motiongate Dubai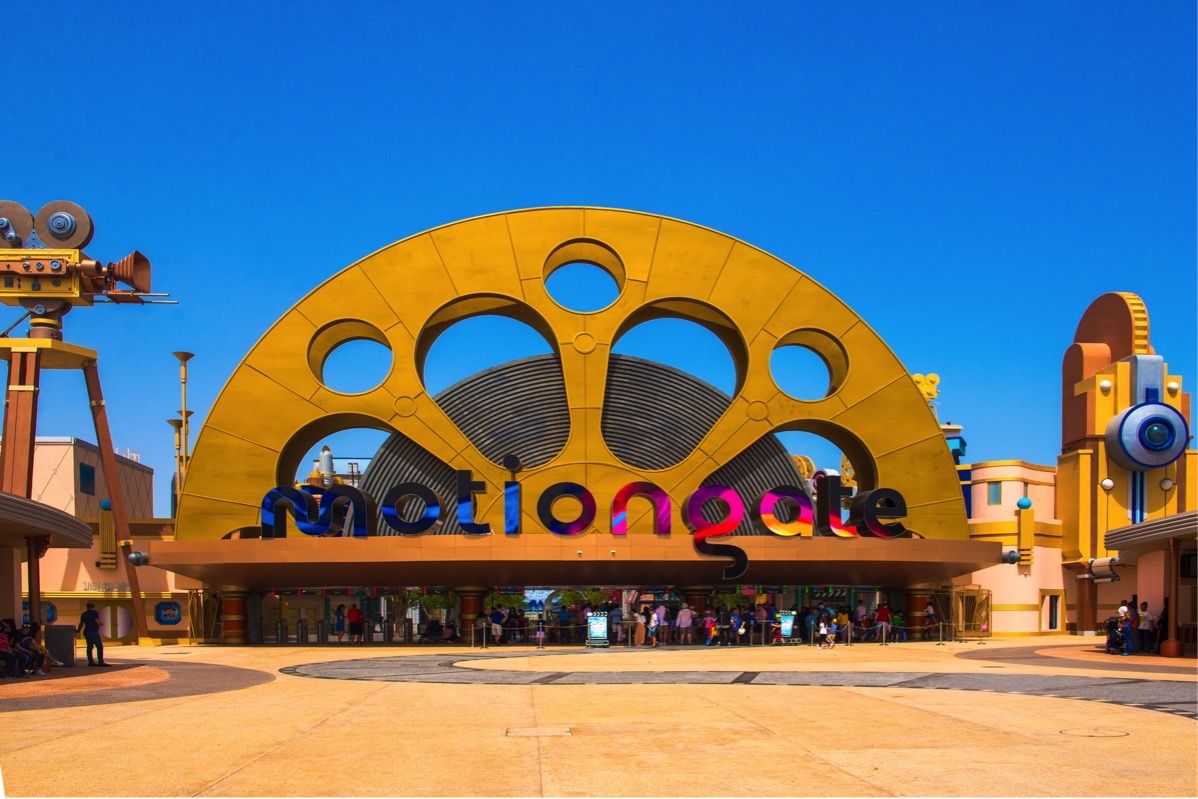 Another spectacular theme park in Dubai, Hollywood style, is Motiongate, also located in the same place as Legoland- Dubai Parks and Resorts. As you would expect from a movie theme park, lots of the rides are movie based like Ghostbusters, The Hunger Games, Shrek and so many more. This would be a thrilling day out with the whole family and you may even meet some of your favourite movie characters.
Age- Rides are geared towards 4-14 years old
Price

Adults/Kids €62 – 275AED
Under 3- Free
Bollywood Parks Dubai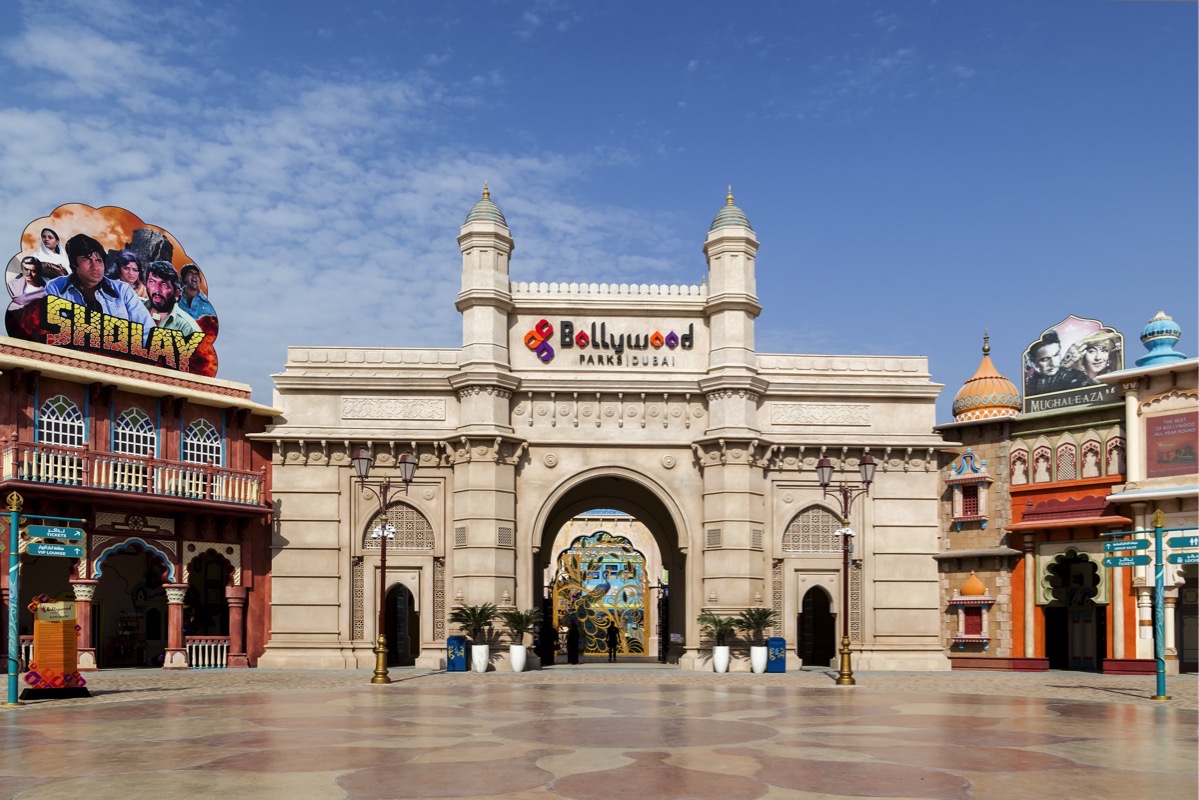 This park is divided up into five sections, also located in Dubai Parks and Resorts. It's a wonderful interactive park that is different to what we are used to in regular theme parks. Think vibrant colours and food. There is also a Bollywood film studio inside.
Dubai parks and resorts also have plenty of hotels onsite to say in.
Age- All ages will enjoy this park.
Price

Adults/Kids €62 – 275AED
Under 3- Free
Dubai Garden Glow- Dino Park
Your little ones will LOVE THIS. A glow in the dark dinosaur park is part of the Dubai Garden Glow. It's the perfect place to visit in the evening after a long day at the pool. As well as the excellent dinosaur park, they have a magic park (think upside down stuff) an art park AND an ice park.
Ages- Kids of all ages will appreciate and enjoy this attraction
Prices- Kids and adults are €15 – 65 AED
Kids under 3 go free
And these are just the most popular attractions. There is plenty more to do in Dubai with kids.. cruises, dinners, visit mermaids etc. Visiting Dubai would be most affordable January and February time (with great weather). Please note that all prices above are correct at time of print. Please check before you go again.