By April Drew
We have a tendency in past years (pre-covid) to go away between Christmas and New Year's but we are always back on Irish soil by Jan 1st or 2nd. This year, after cancelling a few days in London, we decided last minute to book a trip to Tenerife for Jan 4th -11th, where sunshine is nearly guaranteed all year round.
We wanted a hotel that we didn't have to leave (if we didn't want to) with a heated pool for the kids and a nice room and that's exactly what we got.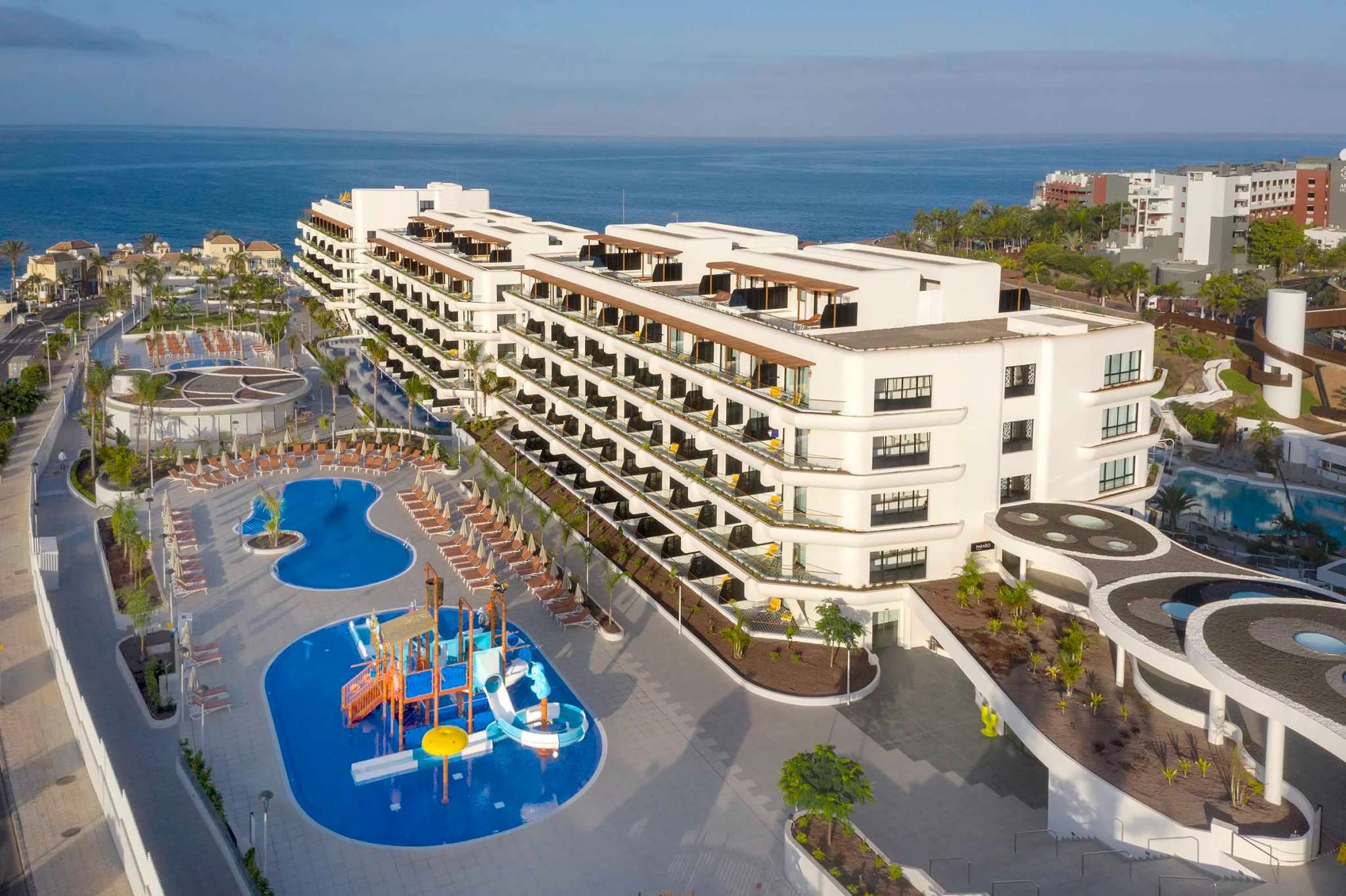 The Hotel
We choose, mainly because we got a super deal, the H10 Atlantic Sunset (click on the link below to view) in Costa Adeje in Tenerife. The hotel is only opened two years and is a five-star property with wonderful staff and super service.
We booked a double family room (can sleep 2 adults, 3 kids under 12 and a baby). Technically we should have booked 2 separate rooms as the room capacity (they told me over email) was only 5 but they made an exception this time but did say it's not their policy. The room is beautifully decorated and has a small fridge, kettle and coffee machine. Our room was overlooking the pool and sea.
Pools
There are three pools and one indoor. The kid's section where there is a pool (and it's heated.. think lukewarm bath water) also has a splash area and a playground so it's very neat and all within eyesight. You aren't allowed to reserve sunbeds which we loved so we were never short a bed when we rolled out of breakfast each morning. Floaties are allowed for the kids so our guys spent the majority of their time in the pool, making new friends and memories.
There is a second pool (salt water) that mainly housed adults but kids were allowed here too. The third pool is an infinity pool overlooking the sea and it's stunning but it's adults only.
Meals
What I love about H10 hotels is that you can book either breakfast, half board, full board or privilege. You can click on the link below to see the various offerings associated with the above but we choose half board. Technically this is breakfast and dinner but you are allowed to change dinner for lunch any day and we did this every second day, allowing us the opportunity to go out to eat every second evening locally.  With half board you do have to pay for drinks at the lunch or evening meal. Sodas and water are approx. €3 each.
Kids entertainment
There are kids clubs in the morning and the afternoon and there is a mini disco usually in the evening time. It has a mild programme compared to some of the resorts we've stayed in but it's ideal if you have kids who are between 4 and 8. My guys, (esp the 9 and 11-year-old) were that bit old for the club but went a day or two for fear of missing out. They make food, decorate t-shirts and create wizard magic. There are games by the pool too. There isn't really anything for older kids or teenagers but the pools and their iPads will keep them entertained for the majority of the time. There is also a small games room on-site next to the kids club.
Spa
There is a gym, indoor pool (adults only) and spa for the adults which is a nice treat to get away from the family for a few hours. Treatments are decently priced and worth checking out.
Restaurants
There are three other restaurants onsite (four if you are on the privilege plan). A steak house (the pool bar converted into a steak house at night), an Italian and a teppanyaki restaurant. These are included if all-inclusive or privilege. We had planned to visit them but didn't get around to it.
Local area
The H10 Atlantic Sunset is about 20 minutes from the airport and it cost us €45 in a 7 seater taxi. (we didn't pre book and there was no car seats available. You are a 10-minute walk from the famous Hard Rock Hotel (and there is some shops and restaurants in this area). You are 15 minutes in a taxi then from Playa De Las Americas (approx. €18), and 12 minutes from Siam Park and Siam Mall. If you have a car you can see much more of the island. There is no white beach nearby but there is a few black stone beaches if you can get over the colour! We tend to stick to the pool with our gang on holidays; it's cleaner!
Overall the area is quite but very pretty. A lot of the really nice hotels in this area are outside the bustle of the towns but are very accessible via taxis night and day.