Photo Credit – Shutterstock
Everyone is looking for deals for a few days away this summer and I'm no exception. I've spent some time looking at some of the best deals across Ireland for you for a few days in July. The dates I've chosen to work with are Sun, July 18th to Wed, July 21st.
There is a blend of hotels some with pools and some without.
All deals below have Free Cancellation. Some of these are affiliates. Please change the date and family size as you go.
Happy staycationing.
€242 – Castle Oaks House Hotel
Limerick
3 star
Old manor style hotel
Wonderful grounds
Pool (newly renovated)
Fairy trail nearby
Limerick City 20 min in car
Great location for exploring Limerick, Clare, Tipperary
July 18th – July 21st 2021
Family of 4 – €242– no breakfast (€362 with breakfast)
Family of 5 – €484– no breakfast (2 rooms)
€312 – The Inn at Dromoland
Clare
3 star
On the grounds of Dromoland Castle
Golf club
Pool
Children's Pool
Kids clubs
Kids play area
Pizza nights
Playground on site
Supervised childcare/activities (surcharge)
July 18th – July 21st 2021
Family of 4 – €312– no breakfast (€418 with breakfast)
Family of 5 – €339– no breakfast
Family of 6- €625- no breakfast (2 rooms)
€318- Lady Gregory Hotel & Swan Leisure Club
Galway
3 star
In Gort
Pool
Children's pool
Connecting/adjoining rooms available
In a regional park
Coole Park – 3.1 mi / 5 km
July 18th – July 21st 2021
Family of 4 – €318– no breakfast (€390 with breakfast)
Family of 5 – €636– no breakfast (2 rooms)
Family of 6- €636- no breakfast (2 rooms)
€345- Westgrove Hotel
Kildare
4 star
2 restaurants
Spa
Pool
Children's pool
Children's club
Kildare Shopping Village – 18.8 mi / 30.3 km
July 18th – July 21st 2021
Family of 4 – €345– no breakfast (€365 with breakfast)
Family of 5 – €581– with breakfast
Family of 6- €690- no breakfast (2 rooms)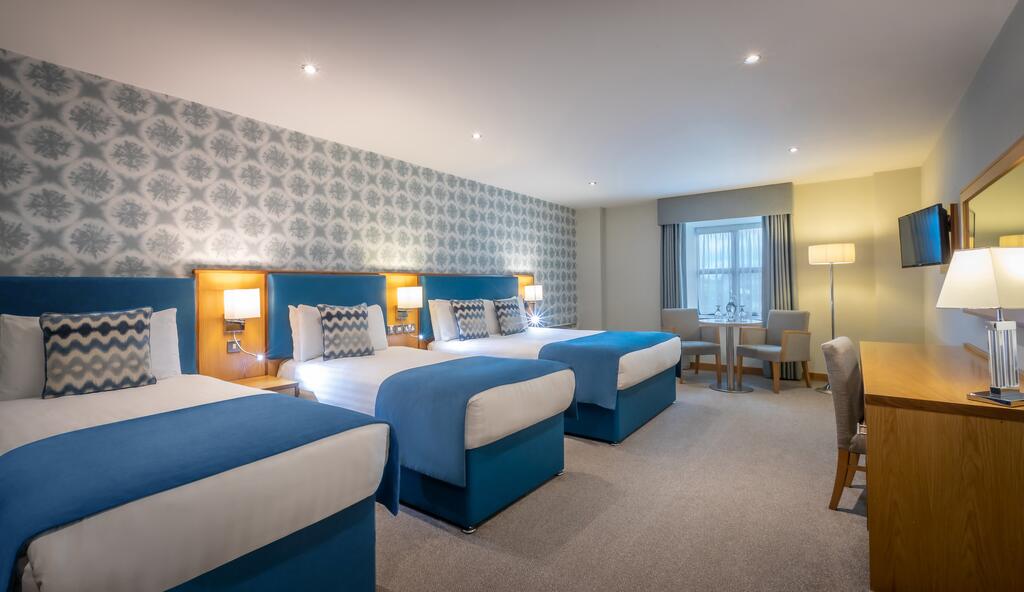 €343- Clanree Hotel & Leisure Centre
Donegal
4 star
Pool
2 restaurants
Near Letterkenny Golf Club
Children's pool
Connecting/adjoining rooms available
Raphoe Castle – 10.1 mi / 16.2 km
July 18th – July 21st 2021
Family of 4 – €343– no breakfast (€553 with breakfast)
Family of 5 – €686– with breakfast (2 rooms)
Family of 6- €686- no breakfast (2 rooms)
€330- Maldron Hotel Newlands Cross
Dublin
3 star
No pool
Connecting/adjoining rooms available
Kilmainham Gaol Historical Museum – 7.9 mi / 12.8 km
Dublin Zoo – 8.6 mi / 13.9 km
July 18th – July 21st 2021
Family of 4 – €330– no breakfast (€404 with breakfast)
Family of 5 – €659– with breakfast (2 rooms)
Family of 6- €659- no breakfast (2 rooms)
€360- Anner Hotel
Tipperary
4 star
Pool
Children's Pool
Garden
Terrace
Farney Castle – 37 min walk
Rock of Cashel – 13.8 mi / 22.2 k
July 18th – July 21st 2021
Family of 4 – €360– no breakfast (€420 with breakfast)
Family of 5 – €720– no breakfast (2 rooms)
Family of 6- €720- no breakfast (2 rooms)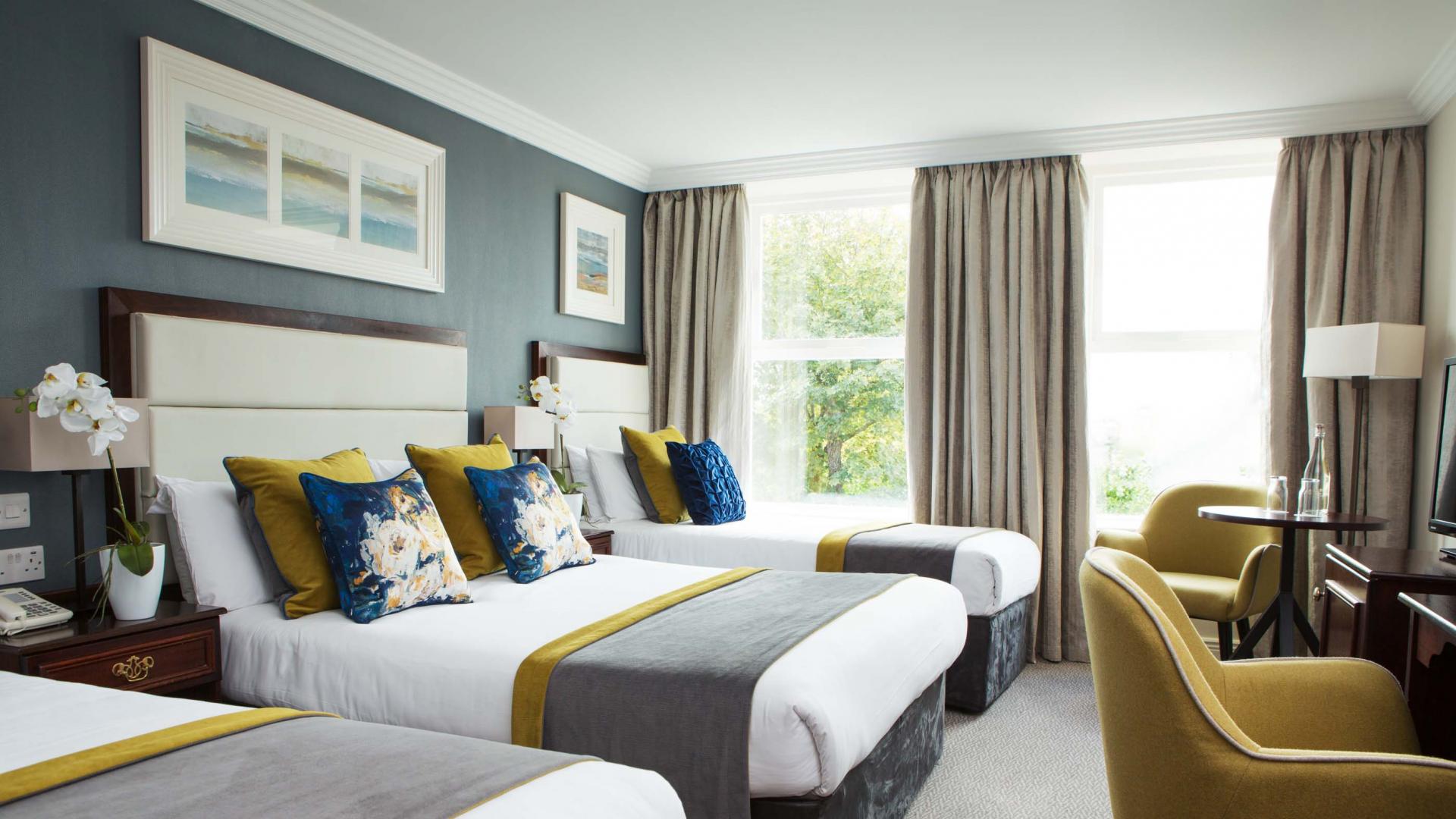 €358- Jurys Inn Dublin Christchurch
Dublin
4 star
Ideal location in Dublin city centre
No pool
Christ Church Cathedral
Dublin Castle – 3 min walk
St. Patrick's Cathedral – 6 min walk
Trinity College – 10 min walk
Grafton Street – 11 min walk
July 18th – July 21st 2021
Family of 4 – €358– no breakfast (€410 with breakfast)
Family of 5 – €715– no breakfast (2 rooms)
Family of 6- €715- no breakfast (2 rooms)
€321- Great National Hotel Ballina
Mayo
4 star
Pool
Spa
Garden
Dolmen of the Four Maols – 36 min walk
Moyne Abbey – 7 mi / 11.2 km
Rosserk Abbey – 7.5 mi / 12 km
Foxford Woollen Mills – 7.9 mi / 12.7 km
July 18th – July 21st 2021
Family of 4 – €321– no breakfast
Family of 5 – €643– no breakfast (2 rooms)
Family of 6- €643- no breakfast (2 rooms)
€308- Abbeyleix Manor
Laois
3 star
8km from Portlaoise
No pool
Garden
Terrace
Connecting/adjoining rooms available
Abbeyleix Heritage House – 15 min walk
July 18th – July 21st 2021
Family of 4 – €308– no breakfast (€398 with breakfast
Family of 5 – €568– no breakfast (2 rooms)
Family of 6- €568- no breakfast (2 rooms)