Photo Credit – Shutterstock
Clare is a very popular staycation location in Ireland and it's easy to see why. With stunning coastlines and some of the friendliest people you'll ever meet, everyone flocks to Co. Clare for a few days break when summer allows.
Below you'll find some deals for July that we discovered. We've based our finds on a family of 2 plus 2 but please amend your dates and family size accordingly when searching yourself.
Please note some of these are affiliate links. All of the quotes below include Free Cancellation. We recommend ONLY booking packages with Free Cancellation policies at this early stage while we are still uncertain when we will be out of level 5. Please note kids stay free under 2.
The Inn at Dromoland
Newmarket on Fergus
3 star
On the grounds of Dromoland Castle
Golf club
Pool
Children's Pool
Kids clubs
Kids play area
Pizza nights
Playground on site
Supervised childcare/activities (surcharge)
CHEAPEST PRICE
July 26th– 28th (2 nights)
Family 2 and 2 – €268 (no breakfast) for 1 room
Family 2 and 3 – €268 (no breakfast) for 1 room
Family 2 and 4 – €536 (with breakfast) for 2 rooms
Bunratty Castle Hotel
Bunratty
3 star
Located in the Heritage visits of Bunratty
Near Bunratty Castle and Folk Park
Limerick city 20 minutes away
Pool
Spa
Connecting/adjoining rooms available
July 26th– 28th (2 nights)
Family 2 and 2 – €460 (with breakfast) for 2 rooms
Family 2 and 3 – €608 (with breakfast) for 2 rooms
Family 2 and 6 – €608 (with breakfast) for 2 rooms
Auburn Lodge Hotel and Leisure Centre
Ennis
3 star
Pool
Children's pool
Garden
Great location in Ennis
Craggaunowen – 11.1 mi / 17.9 km
July 26th– 28th (2 nights)
Family 2 and 2 – €436 (no breakfast) for 2 rooms
Family 2 and 3 – €476 (no breakfast) for 2 rooms
Hotel Woodstock
Ennis
4 star
Golf course on site
Pool
Great location for exploring Clare
Connecting/adjoining rooms available
Supervised childcare/activities (free)
July 26th– 28th (2 nights)
Family 2 and 2 – €320 (no breakfast) for 1 room
Family 2 and 3 – €640 (no breakfast) for 2 rooms
Family 2 and 4 – €640 (no breakfast) for 2 rooms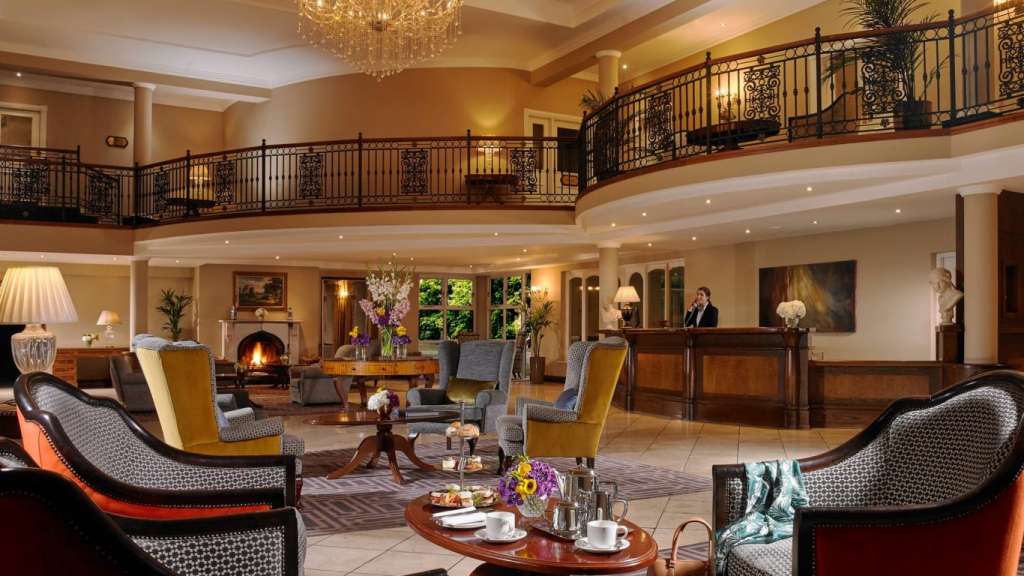 Falls Hotel & Spa
Ennistimon
3 star
Houses on site
Pool
Children's pool
Spa
Garden
In the town of Ennistimon
Lahinch Beach – 3.1 mi / 5 km
Cliffs of Moher – 8.4 mi / 13.5 km
July 26th– 28th (2 nights)
Family 2 and 2 – €478 (no breakfast) for 1 room
Temple Gate Hotel
Ennis
4 star
Great location in the town
No pool
Dromore Wood Nature Reserve – 7.8 mi / 12.6 km
Quin Abbey – 6.2 mi / 10 km
July 26th– 28th (2 nights)
Family 2 and 2 – €540 (with breakfast) for 2 rooms
Treacy's West County
Ennis
3 star
Pool
Children's pool
Children's club (surcharge)
Supervised childcare/activities (surcharge)
Clare Museum – 23 min walk
July 26th– 28th (2 nights)
Family 2 and 2 – €357 (with breakfast) for 1 room
Family 2 and 3 – €400 (no breakfast) for 1 room
Family 2 and 4 – €532 (with breakfast) for 2 rooms
Bellbridge House Hotel
Miltown Malbay
On the waterfront
Spanish Point Beach – 2 min walk
Spanish Point Golf Club – 5 min walk
Lahinch Seaworld – 9.1 mi / 14.7 km
July 26th– 28th (2 nights)
Family 2 and 2 – €600 (no breakfast) for 2 rooms
The Wild Atlantic Lodge
Ballyvaughan
3 star
Cute lodge
Modern décor
Right beside Aillwee Cave
Fanore Beach – 8.6 mi / 13.8 km
July 26th– 28th (2 nights)
Family 2 and 2 – €420 (no breakfast) for 2 rooms
Armada Hotel
Miltown Malbay
4 star
On the waterfront
Very popular
Children's club (free)
Supervised childcare/activities (free)
Lahinch Seaworld – 8.3 mi / 13.4 km
Spanish Point Beach – 7 min walk
July 26th– 28th (2 nights)
Family 2 and 2 – €1,164 (no breakfast) for 2 rooms
Family 2 and 3 – €1,225 (no breakfast) for 2 rooms
Family 2 and 2 – €1,286 (no breakfast) for 2 rooms
Trump International Golf Links
Doonbeg
5 star
Lodges on site also
Doonbeg beachfront Inn
2 restaurants
Golf course
Children's club
Playground on site
Scattery Island – 14.6 mi / 23.4 km
July 26th– 28th (2 nights)
Family 2 and 2 – €1,610 (with breakfast) for 2 rooms
House on the Wild Atlantic Way
Miltown Malbay
Home to rent for 2 nights
Waterfront
Spanish Point Beach – 2.7 mi / 4.3 km
Lahinch Surf School – 8 mi / 12.9 km
Cliffs of Moher – 14.4 mi / 23.1 km
Non-smoking
4 nights July 26th to 30th
Family of 6- €950
5-bed House in Labasheeda
Loop Head Peninsula – 14.5 mi / 23.4 km
Kilkee Beach – 20.7 mi / 33.4 km
4 nights July 26th to 30th
Family of 6- €904