As we all frantically search for holiday packages for the October midterm after being given great hope for European travel in the latter part of the year, we've all noticed the cost of flights far outweigh the cost of accommodation. I was also hoping to grab a bargain but found it very difficult.
I managed to bag, what I now, realise is a decent deal, from Shannon for Thu, Oct 21- Thu Oct 28th from Shannon to Tenerife.
For 5 of us (plus baby) we paid €1,666 with 2 x 20kg bags. Dublin for these dates were coming in at nearly double the price. Now, I had booked a 5 star hotel (Bahia Principe Fantasia) nearly a year ago and got it for €2,400 all inclusive so I needed my flights to fit around these dates.
So I've put together a few luxury family resorts for you for the same dates (Oct 21-28th) if you want to go ahead and book. Make sure to choose the option to pay upon arrival and not beforehand- just in case!
Some prices are based on a family of 4 and some on families of 5.
Please note some of these are affiliate links.
H10 ATLANTIC SUNSET
Playa Paraíso
5 star
Brand New hotel
Overlooking ocean
Kids club
Evening entertainment
Modern hotel
Dates: Thu Oct 21-Thu 28th 2021
COST- Family of 4- Bed and Breakfast €1,838
COST- Family of 4- Half Board €1,901
COST- Family of 4- All Inclusive €2,699
IBEROSTAR HERITAGE GRAND MENCEY
SANTA CRUZ DE TENERIFE
5 star
10 minute's walk to centre
Fantastic Spa
Boutique style hotel
Dates: Thu Oct 21-Thu 28th 2021
COST- Family of 5 – €1,726 (room only)
H10 Las Palmeras
Playa de Las Américas
4 star
Very central
700 m from the beach
Kids club
Evening entertainment
Dates: Thu Oct 21-Thu 28th 2021
COST- Family of 5- Bed and Breakfast- €2,315
COST- Family of 5- Half Board- €2,389
COST- Family of 5- All Inclusive- €3,099
IBEROSTAR LAS DALIAS
COSTA ADEJE
4 star
Beachfront
All inclusive
Kids clubs
Evening entertainment
Wonderful pools
Interconnecting rooms
Dates: Thu Oct 21-Thu 28th 2021
COST- Family of 4- €2,860 interconnecting rooms (All Inclusive)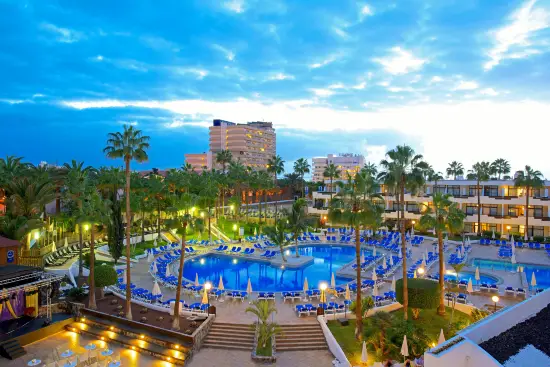 Bahia Principe Sunlight Costa Adeje
Costa Adeje
4 star
All Inclusive
On the beach
8 restaurants and 6 bars/lounges
Kids Clubs
Entertainment
Dates: Thu Oct 21-Thu 28th 2021
COST- Family of 4- All Inclusive- € €1,646
H10 Costa Adeje Palace
Costa Adeje
4 star
On the beach
Kids clubs
Evening Entertainment
Salt water swimming pool
New kids water park
Great location
Dates: Thu Oct 21-Thu 28th 2021 (from Shannon)
COST- Family of 4- Bed and Breakfast € 2,070
COST- Family of 5- Half Board €2,532
COST- Family of 5- All Inclusive €2,922
BAHIA PRINCIPE FANTASIA TENERIFE
San Miguel de Abona
5 star
All inclusive
Best Kids Resort in Tenerife
Kids Clubs
Heated pools
Themed hotel
Evening entertainment
Dates: Thu Oct 21-Thu 28th 2021
COST- Family of 5 – €2,887 (All Inclusive)
Hotel Best Tenerife
Playa de las Américas
4-star
Near beach
Great kids resort
Kids clubs
Playa de las Américas – 8 min walk
Siam Park – 27 min walk
Dates: Thu Oct 21-Thu 28th 2021
COST- Family of 4- €1,249- room only
COST- Family of 4- €1,874- All Inclusive