By Elaine Whelan 
Mayo Glamping
Located in the rolling hills of central Mayo, this unique glamping location is the perfect family escape. With a variety of novelty accommodation to choose from such as a hobbit hut, Nordic wooden cabin or a railway carriage, you kids will be boasting about this holidays forever. Recreate the Lord of the Rings in the charming Hobbit Huts that fit up to four guests. Or immerse yourself in the land of Harry Potter in the Platform 9 and 3/4s railway carriage the sleeps six. A stay here also mean that you can avail of the outdoor pizza oven, bar, sauna and hot tub. Where else could you do that?
Finn Lough Glamping Resort, Fermanagh
Tucked away in Muckross Woods, County Fermanagh is the Finn Lough Glamping Resort. Finn Lough is home to several three bedroom luxury lodges which have all the creature comforts such as televisions, high pressure showers and wood-burning stoves. Despite the lovely lodges, this is not why Finn Lough makes this list. Instead it makes it for the Forest Bubble Domes, which offer 180 degree views with their transparent walls. You are truly allowed to immerse yourself into the beauty and tranquillity of nature. The views inside are just as good with a bespoke four poster bed and ensuite bathroom. With fishing, a marina, water sports, a spa and an indoor play area on site, what more could you wish for.
Teapot Lane, Leitrim
Ever dreamed of your own treehouse when you were a kid? Or do your kids dream of having one now? Teapot Lane in Leitrim allows you to live your childhood dream by staying overnight in a treehouse. Like something out of a movie, you will find the treehouse nestled in the woods. It even has a beautiful tree coming up through the deck where you can sit on the swing chair and relax amidst the trees! As well as that you can also choose to stay in the luxury yurts, vintage caravan or in one of the classic cottages. 
https://www.glampingireland.ie/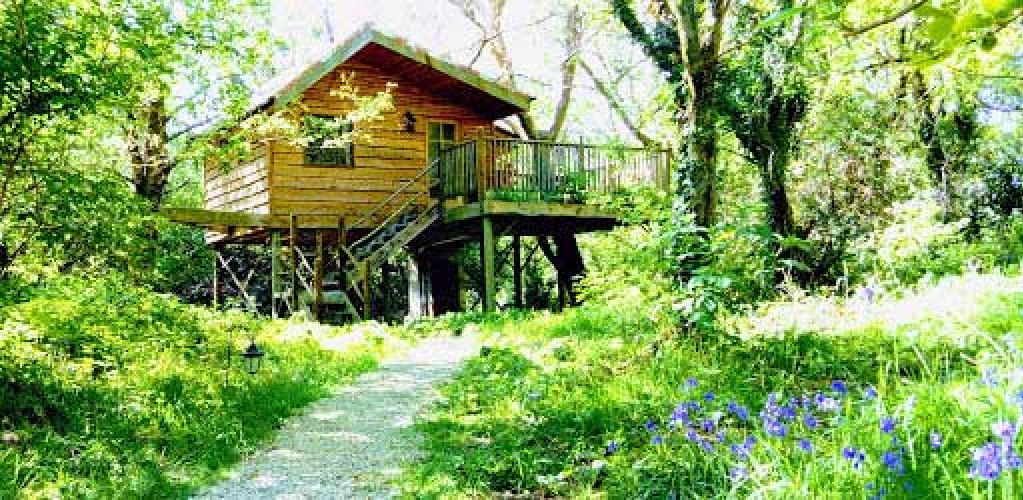 River Valley Holiday Park
If one treehouse getaway isn't enough then how about the Rivervalley Holiday Park in County Wicklow. The Glamping Treehouses can accommodate up to 2 adults and 4 children. You can also choose to stay in the micro or macro lodges which can sleep two adults and up to three children. Or even opt for the funky Kukoo Hut where kids will love to climb the ladder to sleep in their own mezzanine level. River Valley Holiday Park is also home to Ireland's first Glamphotel- a crossover between a boutique hotel and luxury glamping. It promises all the luxuries of a hotel in a unique layout and setting. With quality accommodation as well as plenty of onsite family activities such as go karts, tennis, a mini petting zoo, remote control cars and boats, playgrounds, crazy golf and much more, River Valley has it all.
https://www.rivervalleypark.ie/
Belmullet Coast Guard Station, Mayo
Voted one of the top 50 places to stay along Ireland's coastline by The Irish Times, Belmullet Coast Guard Station is a superb glamping stay. Here, the pods are set in the heart of Erris on Claggan Island – a perfect retreat if are looking for a stunning location and glamorous camping. The luxury pods can sleep up to 4 adults and offer a light and airy space with elegant wood finish, comfy couches and even more comfortable beds. They even have their own toilet and offer exceptional views of the country side, Atlantic Ocean and Achill Island. For larger groups you may instead opt for the Coast Guard Station, a luxury self-catering, three bedroom cottage. Take a walk on the beach or a swim in the ocean just steps away from your very own pod.
Blackwater Eco Pods, Waterford
For a larger pod experience why not choose the Blackwater Eco Pods in Villierstown, County Waterford. Each pod can accommodate four adults or a family of five and contain a kitchenette, shower and toilet. The pods also have a picnic area and BBQ facilities. The pods are conveniently located close to Villierstown Quay, woodland walking trails and local coffee shops and pubs. Just a 15 minute drive away is the town of Dungarvan, which has lots to offer including the Waterford Greenway. These spacious pods have plenty of room for your whole family and are beautifully decorated throughout. Ideal for a serene countryside stay.
https://www.blackwaterecotours.ie/eco-pods/